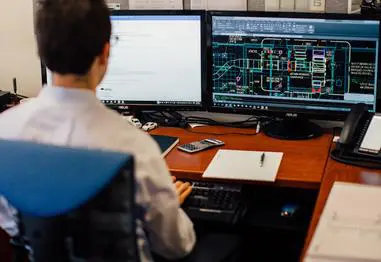 At Airco Mechanical, we are dedicated to exceeding the needs of today's construction industry with our comprehensive design-build services. As a single source for the entire mechanical system of a building, we cover everything from design to complete installation, warranty, and preventative maintenance and service.
Unwavering Commitment
to Quality
We pride ourselves on our unwavering commitment to quality and service before, during, and after project completion. Our focus is on delivering system and people reliability, value, and attentiveness to our client's needs. We offer 24/7, 365-day service & repair for commercial and industrial buildings, ensuring optimal HVAC performance.
Expert Engineering for Customized Solutions
Our engineering department is an essential part of the design-build process. We collaborate with clients from the initial concept to project completion, utilizing our team of experienced licensed mechanical engineers, designers, and CAD operators. Airco's engineering team designs comprehensive mechanical systems tailored to our client's needs, considering budget, schedule, and sustainability.
State-of-the-Art Automated Building Logic Technology
Our control engineers strive to keep costs down and efficiencies high by employing state-of-the-art automated building logic technology. This advanced control technology ensures that HVAC systems operate at peak performance. At Airco, we use cutting-edge software to design your environmental control system, delivering reliable and energy-efficient HVAC solutions.